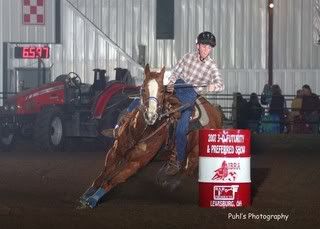 Two was an amazing barrel horse for Mason. They were a team to watch when their names were announced. Mr. Two Treys will be remembered forever by our family.
Thank you very much, Todd and Cathy Allen, for giving us the opportunity to experience Mr. Two Treys. He was a blessing in our lives. We are barrel racing "fanatics" because of this horse. His bond with Mason was remarkable. We were willing to haul all over the country because Mason and Two were such a great team together.
Rest in peace, Mr. Two Treys.
1988-2007.
You were treasured and are missed.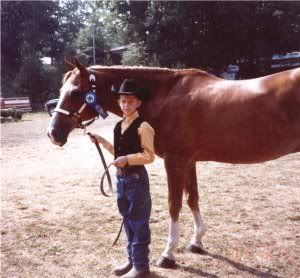 Mr. Steel Item
1979-2006
Mason's first horse. He passed away peacefully at age 27.
Hank was 17 years old when we first got him. There were many people who thought we were crazy for buying an old horse. But he was the best horse any child could ever want. My children would crawl around, over and under Hank and he would let them do anything.
As he got older, while I was cleaning stalls, I would just let him roam around our barn visiting all the other horses in their stalls.
Mr. Steel Item was worth his weight in gold. He gave so many children confidence and taught so many children how to ride.
We miss you Hank!